Printed and Electronic Diplomas and Certificates
Degrees and diplomas/certificates are awarded three times a year: December, May, and August. You must have a degree application on file for the term in which you intend to complete your degree requirements. Pending verification of degree completion, diplomas/certificates are typically mailed within 3-4 weeks from the date your degree is awarded. The printed documents are mailed without cost to students who have completed all academic degree requirements and who have no outstanding financial obligations to the University. Contact the Student Accounts Office if you have a hold on your record (PROWL > Student Services > Registration > View Holds). Your diploma will be ordered after the hold is released by Student Financial Services. Please inform the Office of the Registrar of the hold removal with this form.
Printed Diplomas with Optional Electronic PDF Versions
Upon completion of a degree, LMU places an order for a printed diploma/certificate and sends it to the address given in your degree application. After the printing of your diploma and before its sending, an electronic version (PDF) is produced. You will receive an email with a link to download when it is available from CeCredential Trust, the LMU-authorized agent for diploma and certificate document printing. You are under no obligation to order the e-document, but if you wish to do so, there is a $10.95 charge. Note that e-documents are available for those who graduated in or after the Fall 2019 term.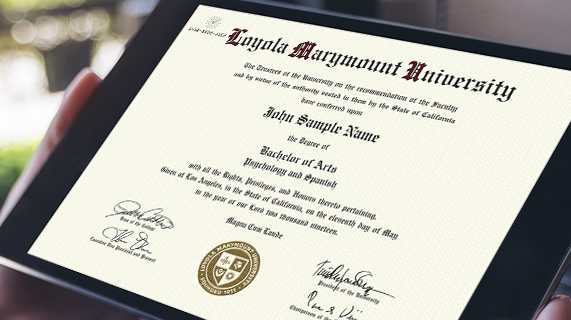 To order a diploma or certificate, use the order process below.
The cost for a replacement diploma is $25.00; expedited service or international delivery is available at an additional cost.
The new diploma will bear the current names of the officials in office at the time the replacement diploma is produced.
The following information will be required in your request:
Full Name while in attendance at the university
Dates of attendance
Date of birth
Major/degree for which you are requesting a replacement diploma
Mailing address to which the replacement diploma should be sent*
Inquiries regarding records prior to 1988 will require additional time for research as these records are maintained on another platform.
*International Shipping
The default shipping method is the US postal service. There are two options for an international address.
1. If you are sending the diploma to an international address, you may choose USPS International Expedited option in Shipping. Please allow for a 30 day arrival window when using this service. If you do not use this shipping method, your diploma will be sent via USPS and may not arrive at your international address.
2. You may use the domestic service if you arrange for a trusted individual in the US to receive your diploma and ship it to you through a third-party, e.g., FedEx or UPS.
3. There is a FedEx option for expedited international service at the cost of the student. You may choose that option on the order form.

What is a Certified Electronic Document? A CeDiploma or CeCertificate is an official, highly secure electronic copy of your LMU diploma or certificate that may be downloaded and shared for a lifetime.

When LMU places an order for diplomas and certificates, it includes the option for the purchase of an electronic copy of your diploma or certificate. When your diploma has been printed, and prior to its sending, the e-credential is produced. You will receive an email with a link to download your credential when it is available from CeCredential Trust. You are under no obligation to order the e-credential, but if you wish to do so, there is a $10.95 charge. Note that e-credentials are available for those who graduated in or after the Fall 2019 term.

For free direct lifetime re-ordering and access, choose the Register option. You may wish to consider using your personal email as this service will be active after you leave LMU. Your Lion email will not be active after you leave LMU.

If you need to request a new download link, please use the CeCredential Trust site to resend the link. For further help, you may contact the CeDiploma service desk at info@cecredentialtrust.com

Benefits

More than a paper credential

An official, secure and verifiable PDF version of your accomplishment

Different from a transcript

Unlimited sharing with employers, family, friends, and social media.
Proof of education with only the important details (degree, degree date, and majors are validated).
Simple for employers to read and understand.

Enhance your resume

Provide your CeDiD and LMU's URL on your resume to highlight your achievement and expedite the verification process for potential employers.

Secure and verifiable


An Apostille is a certificate that authenticates the signature of a public official on a document for use in another country. An Apostille certifies:

the authenticity of the signature of the public official who signed the document,
the capacity in which that public official acted, and
when appropriate, the identity of the seal or stamp which the document bears, e.g. a notary public seal.

The Apostille does not validate the contents of the document.

Graduates of LMU may need their college graduation documents (transcripts or diplomas) notarized and certified with an apostille. If the requesting country is a member of The Hague Apostille Convention, your documents only require notarization and the Apostille from the Secretary of State. If the country is not a member, then your documents may require further authentication through the U.S. Department of State in Washington, D.C., and document legalization through the Embassy / Consulate office.

LMU does not keep copies of transcripts or diplomas. If you wish to a document notarized with an apostille, you need to order a transcript which has expedited delivery available, or a re-issue of your diploma also with available expedited delivery. If you cannot wait the three weeks and have physical access to your original diploma, you could use it for the apostille, and request a re-issued diploma to replace it.

The university does not offer notary and apostille services. Students can handle the apostille service directly with the CA Secretary of State, or utilize a private notary service. LMU has worked frequently with a particular, although not endorsed, service because of its proximity to the campus and the full range of services offered to students. QueenBee Notary is familiar with the LMU policies, and is able to help you through this process. You may choose any service you want to use. Ensure that the service you choose is able to handle your requirements, including the obtainment of the apostille at a California Secretary of State office.

Prior to sending a transcript or diploma, you should consult the service, so they may help you through their process. Documents should not be sent to the Office of the Registrar; rather, send them directly to the service provider at the address they give you.